Crystal Cabrera

Agent

,

REALTOR

in Cypress, TX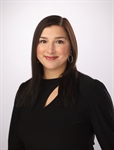 Languages Spoken
English, Spanish
Professional Designations
REALTOR
Expertise Types
Buyer Broker, Co-Op, Condominiums, Foreclosure, Land, New Homes, Relocation, Residential, Residential Investment, Second Homes, Single Family Homes, Townhomes
Crystal Cabrera is passionate about redefining the real estate experience by
offering a superior level of service, innovative marketing, and a highly
personalized experience to her clientele in the Houston and surrounding areas.
Crystal is committed to assessing her clients' needs, determining an action plan,
and utilizing her keen negotiating skills to ensure a successful experience in
finding a perfect home.

Raised in the Houston area, Crystal understands the numerous intangible benefits
of life in Houston with its unmatched weather, culture, and diversity and is
enthusiastic to share this knowledge with her clients. She began her career in real
estate in 2018. Her journey started in the new home sales market. This is where
Crystal discovered her passion for real estate. Crystal continues to assist first time
home buyers in purchasing their perfect home! The time spent in new home sales
has equipped Crystal with practical knowledge, which has proven to be invaluable
to her clients.

In addition to the practical knowledge that she has previously acquired, Crystal's
unique experience has provided her with a vast tool kit in the lending/mortgage
process. Her resources and ability to problem solve situations makes the
lending/mortgage part of the process a breeze! She stays up to date and well
educated on the financial programs available, as the market and requirements are
constantly changing. Crystal has hosted many First Time Home Buyer Seminars
providing knowledge on programs such as Down Payment Assistance (DPA),
breaking down what is included in a mortgage payment, and many other
programs. She takes pride in educating her clients on the requirements needed to
obtain a home loan while answering any questions along the way.

Crystal showcases her homes on her website and utilizes a team of professional
service providers to assist with her clients buying and selling needs, including
stagers, painters, designers, handyman, and inspectors. She has become an
esteemed realtor, highly regarded by her clients and professionals in the field. She
is communicative, thorough, and very detail oriented – this in combination with
her enthusiastic attitude makes for a great partnership and even better client
experience.